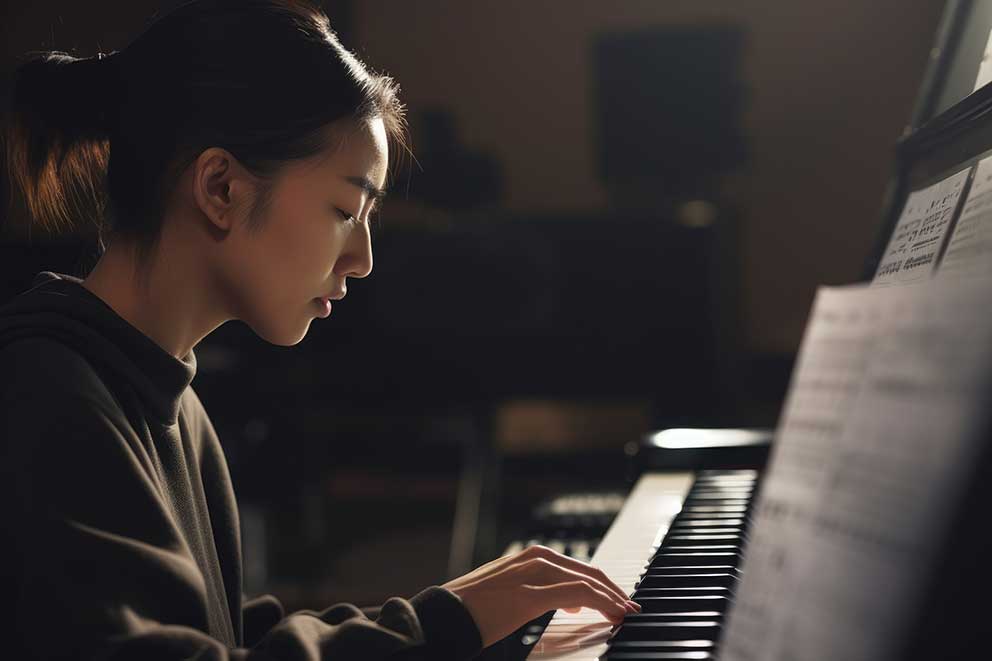 Piano Classes in Klang, Setia Alam & Kota Kemuning
Discover the joy of playing the piano in Klang, Setia Alam, and Kota Kemuning. Our piano classes cater to all ages and skill levels, from beginners taking their first musical steps to advanced pianists honing their craft.
With experienced instructors, a rich curriculum, and a passion for nurturing musical talent, we provide a harmonious learning experience that fosters creativity, discipline, and a lifelong love for the piano.
Join us to embark on a melodic journey where every keystroke resonates with inspiration and achievement.
Learning piano at Neo Dynasty Academy
Experience the joy of learning piano at Neo Dynasty Academy, where expert instruction and a nurturing environment combine to unlock your musical potential.
Experienced Instructors
Our dedicated team of experienced piano instructors are passionate about nurturing musical talent. With their expertise and commitment, you'll receive top-notch guidance and mentorship.
Comprehensive Curriculum
We offer a comprehensive curriculum that covers all aspects of piano playing, from fundamental techniques to advanced repertoire, ensuring a well-rounded musical education.
Exam Success
Neo Dynasty Academy excels in preparing students for piano exams with leading exam boards like ABRSM, Trinity, and Rockschool. Our track record of success speaks for itself.
Personalized Approach
We understand that each student is unique. Our instructors tailor lessons to your individual learning style and pace, fostering efficient progress and skill development.
State-of-the-Art Facilities
Enjoy our modern and well-equipped facilities, including quality pianos and technology, providing an optimal learning environment.
Performance Opportunities
Showcase your talent at recitals, concerts, and events organized by Neo Dynasty Academy, gaining valuable stage experience and confidence as a performer.
Community
Join a vibrant community of pianists and music enthusiasts. Our inclusive atmosphere promotes camaraderie and friendships among like-minded individuals.
Creative Expression
Learning the piano nurtures your ability to express emotions and ideas through music, enhancing your creative capacity.
Mental Stimulation
Playing the piano improves cognitive functions like memory, concentration, and problem-solving, contributing to overall mental fitness.
Outstanding Piano Exam Results
Discover the exceptional success of our star students at Neo Dynasty Academy, where dedication and musical excellence shine through outstanding piano exam results.
Class Timetable
Discover our piano timetable, offering 45-minute sessions and extended 60-minute sessions for advanced grades, all in personalized 1-on-1 classes. Please note that all sessions include a 15-minute music theory component.
Advanced reservations are required for all classes.
Advanced reservations are required for all classes.
Advanced reservations are required for all classes.
Class Fees
At Neo Dynasty Academy, our piano class fees are designed to be affordable, ensuring that high-quality music education is accessible to everyone.
Initial Fees
Registration Fees – RM30
Advance Fees – from RM145
Monthly Fees for 1-on-1 Sessions: 4 sessions per month, each session includes a 15-minute music theory component
Beginner45-min session – RM130 + RM15 (Music Theory)
Grade 145-min session – RM150 + RM30 (Music Theory)
Grade 245-min session – RM170 + RM30 (Music Theory)
Grade 345-min session – RM190 + RM35 (Music Theory)
Grade 445-min session – RM210 + RM45 (Music Theory)
Grade 545-min session – RM230 + RM55 (Music Theory)
Grade 660-min session – RM290 + RM70 (Music Theory)
Grade 760-min session – RM310 + RM80 (Music Theory)
Grade 860-min session – RM330 + RM90 (Music Theory)
* All prices are subject to terms and conditions
Reserve a Class Now
Reserve your spot for a class now! Feel free to contact us if you have any questions before booking your slot. We're here to help!