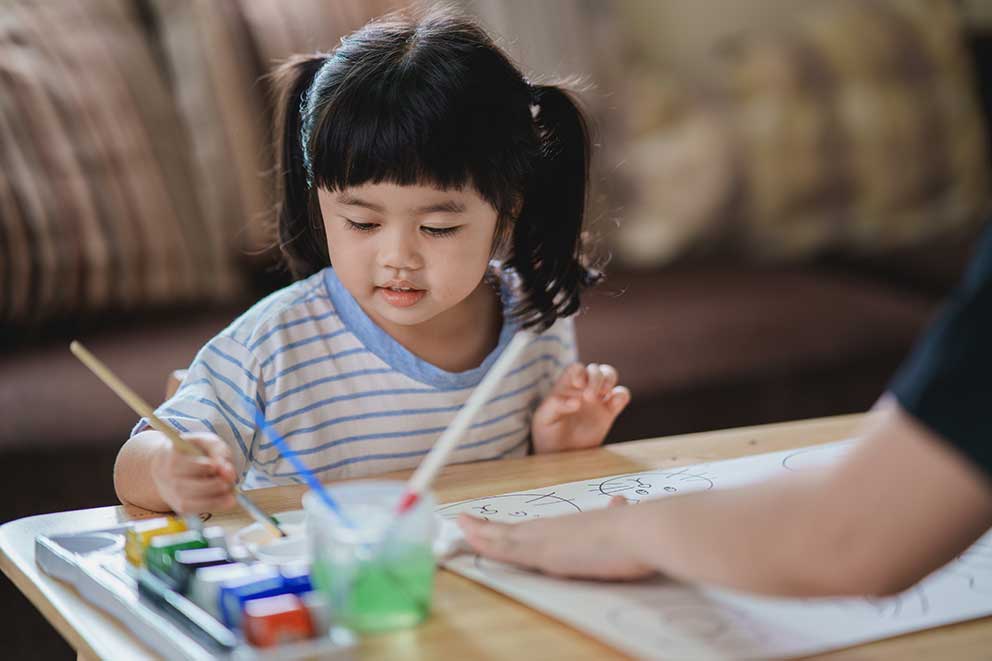 Art Classes in Klang, Setia Alam & Kota Kemuning
Nurture Your Child's Imagination with Art Classes in Klang, Setia Alam, and Kota Kemuning. Our carefully crafted program draws inspiration from the innovative Founder of Children's Art, guiding young artists on a captivating journey of creative exploration.
From vibrant colors to imaginative forms, our classes encourage self-expression and skill development, providing a well-rounded artistic education that empowers children to unleash their inner talents.
The art class is open to aspiring artists aged 4 and above, join us as we ignite the passion for art in your child and cultivate a lifelong appreciation for creativity.
Some Benefits of Kids' Art Classes
Participating in kids' art classes not only enriches their creative abilities but also promotes holistic development, including emotional, cognitive, and social growth.
Creativity
Art classes encourage children to explore their creativity, fostering original thinking and imaginative expression.
Fine Motor Skills
Through activities like drawing and painting, kids improve their fine motor skills and hand-eye coordination.
Confidence
Art requires critical thinking and problem-solving skills as kids make decisions about colors, shapes, and composition.
Problem Solving
Art requires critical thinking and problem-solving skills as kids make decisions about colors, shapes, and composition.
Emotional Expression
Art provides a safe outlet for children to express their feelings and emotions.
Cultural Awareness
Learning about different art forms exposes kids to diverse cultures and traditions.
Attention to Detail
Art encourages kids to pay attention to detail, which can benefit their academic performance.
A Sense of Achievement
Completing art projects gives kids a sense of accomplishment and pride.
Fun and Enjoyment
Most importantly, art classes are enjoyable and offer a sense of fulfillment for kids.
Embrace Physio Fit with Neo Dynasty Academy
When you choose Neo Dynasty Academy, you're not just enrolling in a fitness class; you're becoming part of a supportive community, gaining access to expert guidance, and embarking on a journey toward a healthier, happier you.
Expert Instructors

Our instructors are experts with extensive training and experience in various art techniques, guaranteeing you top-notch guidance and support during your kids' art class journey.

Customized Experience

Whether you're new to art or a seasoned enthusiast, our kids' art group classes are designed to cater to all skill levels.

Convenient Locations

With multiple locations in Setia Alam and Kota Kemuning, Neo Dynasty Academy provides convenient access to our classes, making it easier for you to prioritize your kids' artistic journey.

Affordability

Experience the enriching world of art with our kids' art classes, where affordability ensures that creativity knows no bounds.
Class Timetable
Explore the diverse offerings of our kids' art classes timetable, including engaging 120-minute sessions, designed to nurture young artists' creativity and skills.
Class Fees
Neo Dynasty Academy provides affordable class fees, catering to your specific preferences and requirements.
Initial Fees
Registration Fees – RM150 including a set of art kit
120-minitus Group Session Fees
The group class capacity is up to 6 participants
4 sessions per month – RM120
* All prices are subject to terms and conditions
Reserve a Class Now
Reserve your spot for a class now! Feel free to contact us if you have any questions before booking your slot. We're here to help!