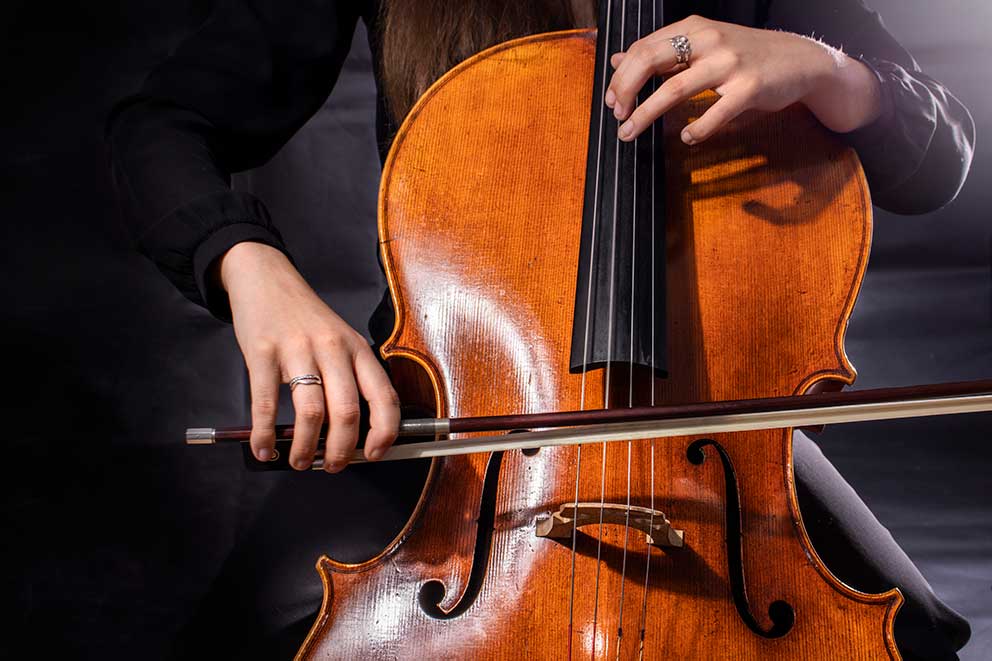 Cello Classes in Klang, Setia Alam & Kota Kemuning
Welcome to Neo Dynasty Academy's prestigious Violin Classes in Klang, Setia Alam, and Kota Kemuning. Our renowned program is tailored for students of all ages and skill levels, fostering a diverse and inclusive learning environment where everyone can pursue their passion for music.
With our team of experienced and dedicated instructors, we are fully equipped to prepare you for success in Cello grades acknowledged by ABRSM and Trinity, ensuring a comprehensive and enriching musical journey.
What Our Classes Offer
Our Cello Classes offer expert instruction, personalized learning, exam preparation, and performance opportunities for students of all ages, fostering a thriving musical community.
Expert Instruction
Receive guidance from highly skilled and experienced cello instructors.
Comprehensive Curriculum
Explore a well-structured curriculum that covers essential cello techniques and musical theory.
All Ages Welcome
Our classes are open to students of all ages, making it a family-friendly learning environment.
Individualized Approach
Benefit from personalized attention tailored to your unique learning style and goals.
Performance Opportunities
Showcase your talent through recitals and performances.
Exam Preparation
Excel in cello grades with preparation for ABRSM and Trinity examinations.
Instrument Mastery
Develop advanced cello skills, including bowing techniques and finger dexterity.
Music Theory
Gain a deep understanding of music theory to enhance your overall musical knowledge.
Musical Expression
Learn to convey emotions and stories through your cello playing.
Discover Violin Excellence at Neo Dynasty Academy
At Neo Dynasty Academy, we offer more than just music classes; we provide a vibrant community, expert guidance, and the path to becoming a confident and skilled violoncellist.
Passionate Community

Join a vibrant musical community that shares your passion for the cello.

Customized Learning

Enjoy personalized instruction tailored to your unique musical goals and preferences.

Convenient Locations

With multiple locations in Setia Alam and Kota Kemuning, Neo Dynasty Academy provides convenient access to our classes, making it easier for you to prioritize your musical journey.

Affordability

We offer competitive pricing, ensuring that Neo Dynasty Academy's cello classes are accessible to all, regardless of budget constraints.
Class Timetable
Discover our cello lessions timetable, offering 30-minute sessions and extended 45-minute sessions for advanced grades, all in personalized 1-on-1 classes.
Advanced reservations are required for all classes.
Advanced reservations are required for all classes.
Advanced reservations are required for all classes.
Class Fees
At Neo Dynasty Academy, our cello class fees are designed to be affordable, ensuring that high-quality music education is accessible to everyone.
Initial Fees
Registration Fees – RM30
Advance Fees – from RM160
Monthly Fees for 1-on-1 Sessions: 4 sessions per month
Beginner30-min session – RM160
Grade 130-min session – RM180
Grade 230-min session – RM200
Grade 330-min session – RM220
Grade 430-min session – RM240
Grade 530-min session – RM260
Grade 645-min session – RM320
Grade 745-min session – RM340
Grade 845-min session – RM360
* All prices are subject to terms and conditions
Reserve a Class Now
Reserve your spot for a class now! Feel free to contact us if you have any questions before booking your slot. We're here to help!