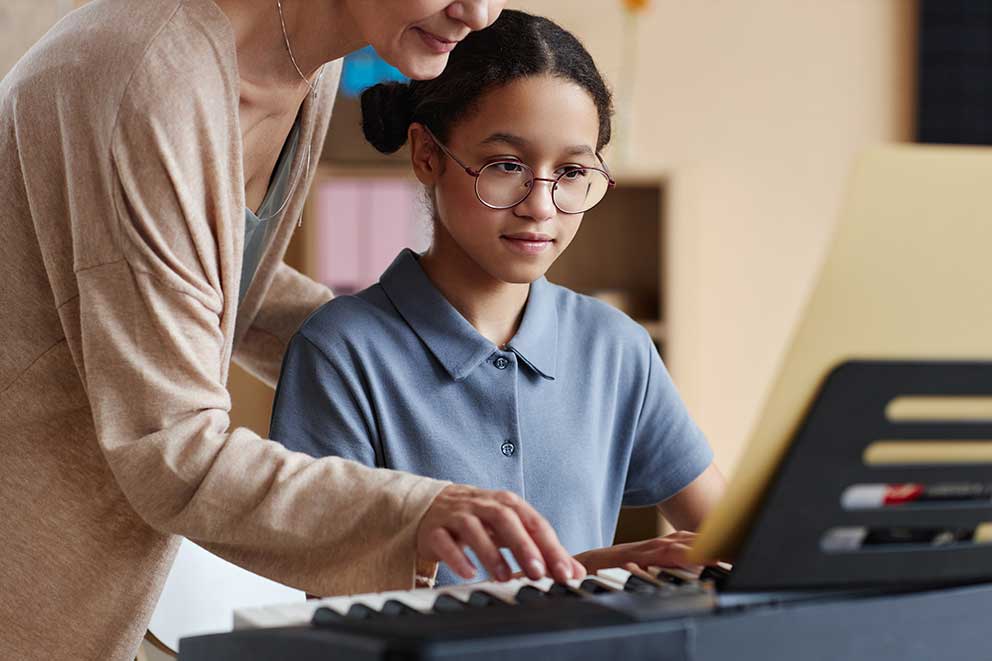 Keyboard Lessons in Klang, Setia Alam and Kota Kemuning
At Neo Dynasty Academy, our keyboard lessons harmonize music education with individualized attention. With centres conveniently located in Klang, Setia Alam, and Kota Kemuning, we offer 1-on-1 personal classes for learners of all ages and levels.
Whether you're an absolute beginner, an intermediate player, or aspiring to reach advanced proficiency, our dedicated instructors tailor each lesson to your unique musical journey. Experience the joy of learning to play the keyboard with us and unlock your full musical potential.
Choosing Neo Dynasty Academy for Keyboard Lessons
Choosing Neo Dynasty Academy for keyboard lessons means embarking on a musical journey where passion, expertise, and individualized attention converge to help you achieve your musical aspirations.
Expert Instructors
Our dedicated team of experienced instructors is passionate about music education and skilled in teaching keyboard. They provide expert guidance, tailored instruction, and a nurturing learning environment.
Comprehensive Curriculum
Our curriculum covers a wide range of musical aspects, including music theory, technique, repertoire, and performance skills, ensuring a well-rounded musical education.
Exam Success
We excel in preparing students for keyboard and piano exams with all major exam boards, including Rockschool. Our track record of success demonstrates our commitment to helping students achieve their musical goals.
Individualized Instruction
We recognize that each student is unique. Our instructors provide personalized coaching, adapting lessons to the student's learning pace and goals, whether it's mastering a specific piece or preparing for an exam.
Keyboard Foundation Session
Our curriculum includes a dedicated foundation session, ensuring that beginners receive comprehensive instruction in keyboard fundamentals.
Performance Opportunities
We encourage students to showcase their talent through regular recitals and performance opportunities, helping build confidence and stage presence.
Flexible Scheduling
We offer flexible scheduling options, making it convenient for students to find a suitable time for their lessons.
Convenient Locations
With centers in Klang, Setia Alam, and Kota Kemuning, our locations are easily accessible for students in these areas.
All Age Groups
We welcome students of all ages and skill levels, whether you're a child, teenager, adult, beginner, or experienced player.
Outstanding Keyboard Exam Results
Discover the exceptional success of our star students at Neo Dynasty Academy, where dedication and musical excellence shine through outstanding keyboard exam results.
Class Timetable
Discover our keyboard lessons timetable, offering 30-minute sessions, all in personalized 1-on-1 classes.
Advanced reservations are required for all classes.
Advanced reservations are required for all classes.
Advanced reservations are required for all classes.
Class Fees
At Neo Dynasty Academy, our keyboard lessons fees are designed to be affordable, ensuring that high-quality music education is accessible to everyone.
Initial Fees
Registration Fees – RM30
Advance Fees – RM180
Monthly Fees for 1-on-1 Sessions: 4 sessions per month
Foundation30-min session – RM180
* All prices are subject to terms and conditions
Reserve a Class Now
Reserve your spot for a class now! Feel free to contact us if you have any questions before booking your slot. We're here to help!